TAP Design Group, a family-owned and run graphic design company, is a team of exceptional printing professionals serving southeastern Pennsylvania and the tri-state area. Specializing in large format printing for signage, vehicle wrapping, embroidery, trade show graphics, apparel, stickers, and more, the crew has graphic design running through their DNA.

With 20 years of experience in the industry, Ari Sorkin and TAP Design Group offers rapid printing services at competitive prices, helping businesses in the region stand out from the crowd without breaking their budgets.
Leading Technology Combined with Printing Prowess
The team works with cutting-edge technology and utilizes their years of marketing expertise to offer premium printing solutions, ensuring businesses reach their target market and inspire them to become paying customers.

Quality printing is hard to find in today's fast-paced digital world, but the design group has changed the mold. Their vast range of in-house services coupled with highly knowledgeable staff makes them the one-stop-shop for corporate printing needs.

Businesses can expect nothing but outstanding printing and incredible customer service from the beginning of their project to the end. It's never been easier for businesses across the United States of America to enhance their brand awareness through printed materials. This printing business is the turnkey solution.
Printing Services Companies Can Count On
From short-run digital printing to large-volume direct mail to online services to targeted mail to promotional products, the team takes on a wide variety of graphic-focused projects. Companies can rest easy in the hands of the design group's professionalism, speed, and high-quality results.

Whatever customers want, they'll receive. Whether it's apparel, signs, swag, or anything in between, the crew knows exactly how to do it flawlessly.

The specialists are particularly well-versed in the following: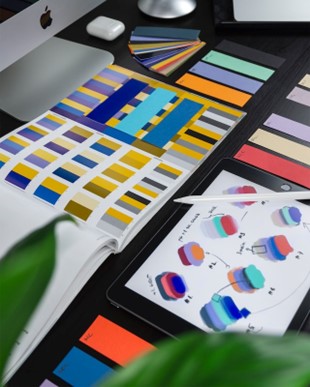 Flyers, brochures, and postcards — They understand the importance of professionally finished promotional materials. Businesses can choose soft touch, dull aqueous, varnishes, gloss, or UV to ensure the feel matches their brands' tones.
Apparel — Unlike other printing providers, they don't just specialize in screen printing only. Instead, the team offers embroidery services too, ensuring companies can achieve their t-shirt or jacket visions.
Signage — Dubbed the most cost-effective way for companies to get their message to the masses, signage is a must-have for any business. But it must be perfectly executed, and the design team is the one for the job.
Vehicle wrapping — Golf carts, boats, trucks, cars; whatever the vehicle, the crew can create a wrap for it.
Trade show materials — They've made countless backdrops, free-standing signs, brochures, bags, and every trade show material imaginable. Experience and material knowledge are critical when printing for such high-stakes events, and these specialists have both in spades.
The Only Printing Professionals Businesses Need
Companies seeking professional large-format printing and graphics design will find the highest-standard craftsmanship with TAP Design Group. With over two decades of experience in the field, the team boasts dedication and commitment to the printing profession, showcasing mastery in all their work.

For printing that makes an impact, contact TAP today.